Now onto the second part of our digital encyclopaedia of case and movement finishes! In Part I, we went through the simpler world of case finishes, if you haven't read that first we'd recommend it as it will set you up nicely for the much more complex series of movement finishes! Part I can be read here.
The mark of an ultra high-end watch is often how well finished the case & movement is. The movement finish often serves a function too and is rarely purely aesthetic. Improper polishing of pinions will lead to unnecessary friction causing a watch to be less reliable and accurate. The shallow groves from a Geneva striped finish on the movement scrubs any minor imperfections in the metal and the finish can trap dust which can lodge in moving parts and increase friction. Edges are chamfered to prevent the tips from breaking away and obstructing the movement. Whilst also, when done right, making a watch absolutely stunning to look at! Take this the Patek Phillipe Calatrava Ladies 7200r-001 for example. Patek Phillipe are masters of finish, famed to have an 'aesthetic committee' to evaluate whether the construction and finish of a movement is adequately attractive before endorsing full production. The finest movement finishes are produced by the likes of Patek Phillipe and A.Lange & Sohne and are almost always finished by hand. Resulting in the most perfect finish possible.
We'll begin with the shared finishes that can be found both on the case and the movement.
POLISH: The first of our shared finishes between the movement and the case is a polished finish. Polished sections of a movement can almost always be found as it is functional as we mentioned as well as aesthetic. Polished screws are commonly used for movements (we'll get into screws properly later in this post) but a polished finish can be used on most parts of the movement and so is very frequently found! The finest polish is known as black polish due to the way the metal reflects light as a result of the perfect finish. Seen here on the Swan-neck regulator of this Glashutte Original. 
BRUSHED: One of the more common finishes found on the case is equally common on well-finished movements! A brushed finish both in straight grain and circular grain is commonly found on the bridges and wheels of high-end movements. Circular grain is most common as you can almost always find a circular grain on the wheels of a watch with an exhibition case back. A straight grain can often be found on the arms of an automatic chronograph or bridges. Perfectly demonstrated by this IWC Portugieser iw500109 with one wheel bearing a circular grain and one bearing a straight grain, emanating from the central pivot, as well as a straight grain on the raised sections of the rotor in the right of the picture. 
BEVELLING: Though we did see bevelling as part of the case finish, its use in finishing the movement is much more subtle! As we said, bevelling (also known as chamfering or anglage) serves a purpose, in preventing edges of the plates and bridges from breaking off and damaging the movement. Bevelling is a feature found on a higher-end movement, but NOMOS are a brand known for their exceptionally finished movements. Here showing the bevelled edges of the plates here on the NOMOS Ahoi Datum.
COTES DE GENEVE: Côtes de Genève is another relatively common movement finish. Often referred to as 'Geneva stripes' which is the English translation, it is achieved by running a rotating element laterally across various movement components. As well with lesser-seen variants with curved stripes across the plates of the movement. This finish can be seen both above on the movement of the NOMOS Glashutte Ahoi Datum as well as this Jaeger LeCoultre Master Grand Ultra Thin 1358420. In fact, you will likely see this finish in every picture we include in this article due to its popularity. 
PERLAGE: Another exceptionally popular finish is perlage. Perlage is frequently seen on the inside of case backs of vintage watches and finishing of the movement of many high-end modern watches. This finish is achieved by repeatedly pressing a rotating grinding tip on the movement to create the mass of overlapping circular patterns! Seen here on this Tag Heuer Monaco caw2110.fc6177
BLUED & POLISHED SCREWS: Polished screws are almost always found through an exhibition case back, however the level of finish can vary greatly! lesser-seen is the practice of blueing screws! Thermally blued steel is a practice used in watchmaking for decades as it not only increases the strength of the steel but also makes the steel go a stunning deep blue. Screws and occasionally other movement components can undergo the tricky process of being thermally blued under a steady heat, increasing the strength. Or the less expensive method of chemically blueing the steel, this doesn't increase the strength of the metal and gives a much less captivating blue to the component. All the watches we've featured so far have polished screws so to see them look for them in the previous pictures. Blued screws, however, are perfectly demonstrated by our Jaeger LeCoultre Master Grand Ultra Thin 1358420.
SUNK JEWELS & SCREWS: This is the last of our more common movement finishes. Sunk jewels and screws are similar to bevelling, where the sharp edges of the jewel housing or screw hole are bevelled and polished. Looking as though the jewels and screws have sunk into the metal giving them the name jewel or screw sink! With jewel sink seen here on this IWC Portugieser iw500109.
GUILLOCHE: moving up the ladder of complexity, Guilloché is definitely one of the lesser-seen movement finishes. Guilloché is a series of extremely precise, intricate repeating patterns mechanically engraved into a metal. It is very rarely seen and only found on the most luxurious pieces. It is seen here on our Ulysse Nardin Maxi Marine Chronograph 356-66-8/354.
GOLD STAMPED: Many movements are stamped with the movement specifications or manufacturer and then re-stamped with a layer of gold leaf, resulting in a gold print that stands out from the cold grey of the movement! Such as the gold stamping on the rotor of this Jaeger LeCoultre Master Grand Ultra Thin 1358420.
SAND BLASTED: Sandblasted finish is seen in a variety of watches with the execution meaning a resulting in a completely different look. As we said with the movement finish sand blasting gives the metal a matte and smooth finish, it is only when inspected extremely closely can the finely gritted finish of the movement can actually be seen. It is demonstrated here on a skeletonised bridge of the Hublot King Power UNICO 701.oq.0180.rx
ENGRAVING: is another lesser seen finish as it almost always has to be executed by hand by a skilled engraver. Engraving is most commonly seen on the rotor of watches or on the balance cock as is frequently seen on A. Lange & Söhne watches. Here the engraving of the small Ulysse Nardin anchor logo is engraved onto the solid gold rotor of this Ulysse Nardin Maxi Marine Chronograph 356-66-8/354.
NOTE – These last few finishes are only found on ultra high-end watches and you'd be hard-pressed to find them anywhere not on a watch less than £15,000! Due to their rarity, we don't have any in-stock (though they may still be listed on our website for special order!) and therefore any pictures, as a result we did not take the pictures for the next 3 finishes! The source will be included beneath the image.
HAMMERED:  A hammered finish is also found on the movement, often used as a backdrop to raised polished text to make it stand out all the more so! the difference in the hammered movement finish and the hammered case finish is the movement finish is usually a much finer grain. Seen here on an A. Lange & Söhne movement: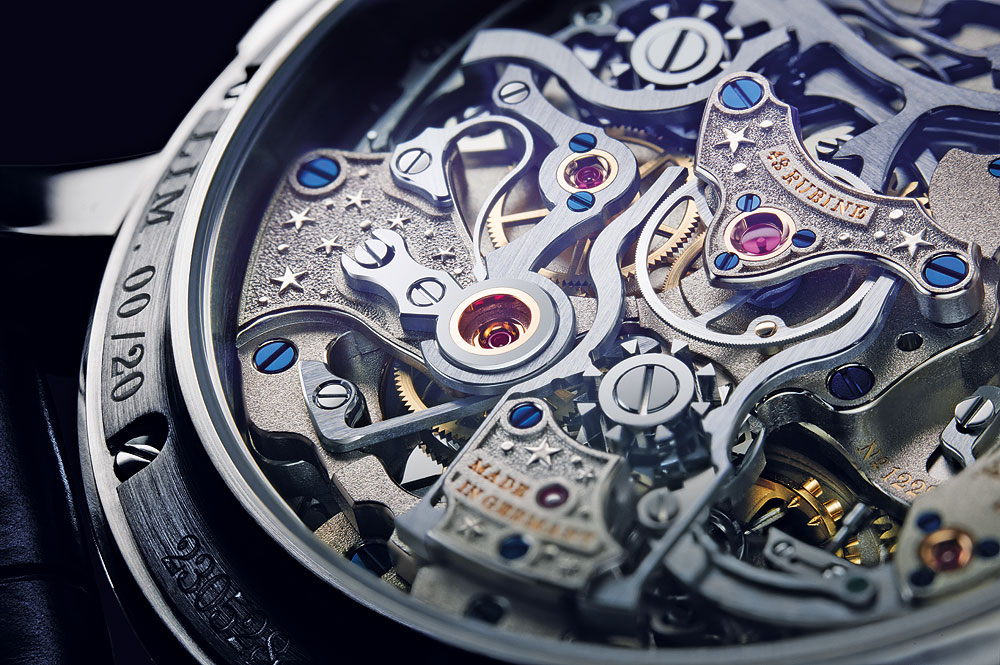 https://donghomovado.vn/khai-niem-dong-ho-grand-complication-la-gi/
DECORATED WHEELS: Another rare movement finish is the practice of specially constructed wheels and pinions. Again this usually needs to be done by a skilled watchmaker and largely by hand. Seen here on this Patek Phillipe 5016R Grand Complication movement.
http://watchesbysjx.blogspot.com/2013/05/up-close-patek-philippe-5016r-grand.html
CHATONS: Chatons historically have been strictly functional. Years ago when natural rubies were used for the low friction high strength bearings for watch parts where there would otherwise be high wear and tear. However, due to the imperfections of the natural rubies, they were secured in gold collars and adjusted very finely via screws surrounding the gold collar. Today, synthetic rubies are perfectly manufactured and are set in the movement without the need for a collar for fine adjustment leading to greater accuracy. Gold chatons are used today as a mainly decorative item for extremely high-end pieces, such as this A. Lange & Söhne Lange 1. As you can see, the crystals are set in the gold collars secured by blued screws!
https://timeandtidewatches.com/holiday-buying-guide-the-a-lange-sohne-lange-1/
VERDICT:
I would bet the price of every watch in this blog post that you weren't fully aware of the importance and complexity of finishes in watchmaking! However, if you have read both PART I and PART II then we challenge you to find a case or movement finish we haven't got included in this article! We'll show you again the Patek Phillipe included at the beginning of the post let'sets see if you can find all the movement finished in this stunning piece! Clue, we can spot 7 different finishes! Good luck!
If you enjoyed this article, be sure to check out the countless other Horological reviews, articles and tips on the watch source blog! Be the first to be notified of new Blog releases by following our Facebook, Twitter or Instagram linked below. And keep up to date with our YouTube video versions by subscribing and turning on the bell to receive notifications of our weekly releases!
As always, visit thewatchsource.co.uk and thewatchsource/preowned to view our extensive selection of luxury watches at un-rivalled prices with up to 15% off luxury watches. Specialising in over 40 opulent brands both brand new and pre-owned watches and with over 60 years of combined experience in the luxury watch industry, we can more than fulfil all your horological needs!
YouTube: https://www.youtube.com/channel/UC9hyn-RgapIl6lYWYbA6nEQ
Facebook: https://www.facebook.com/thewatchsource/
Twitter: https://twitter.com/WatchSourceUK
Instagram:
Preowned: https://www.instagram.com/watchsourcepreowned/